Content-Managed Web Sites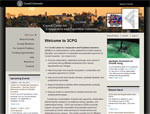 Example of a site
maintained with our CMS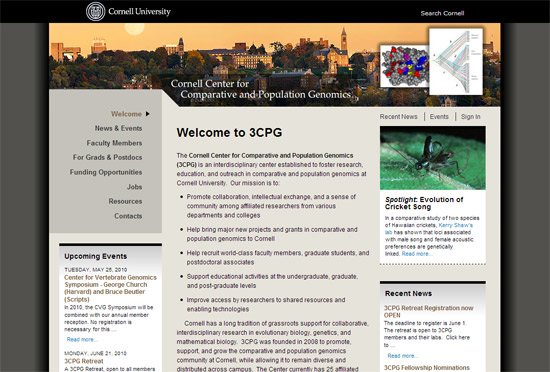 Visit www.3cpg.cornell.edu
Client Web sites are powered by our custom content management system (CMS). Whether you are looking for a straightforward informational Web site or a custom Web application, all of the content can be added and updated easily from any Web browser.
Features include:
Full control over site content. Any page can be edited, added, deleted, and placed precisely within the site's navigation menu.
Flexible and granular user permissions accommodates small and large organizations alike.
Allow any user to edit any combination of pages.
Events calendar with the ability to collect registrations, securely process credit card payments, and print name badges.
Date-driven news module.
Image and video gallery.
Discussion forums.
Secure collaboration tools. Lock down any content or documents on the site to any group of users.
Advanced features:
Application processing and online review - perfect for managing grant applications, employment applications or just about any business process currently collecting paper applications.
Online document management. Solicit manuscripts, assign them to reviewers, and then publish them online to public or private users. Perfect for online Journals, scientific research, documentation and manuals.
Searchable staff directory.
Electronic newsletter or journal publishing with article submission and review.
Full-featured and customizable order processing system.
Manage multiple sites from one interface. Multiple sites can share a common design—useful for individual units within a larger organization.
Contact us for more information.