AssociationNET
AssociationNet is a full-featured Web Application for scientific and other types of professional associations. The system provides associations everything they need to smoothly run their membership functions, elections, electronic journals, sponsorships, working or research groups, and even their annual conference.
Overview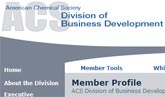 Example Member Profile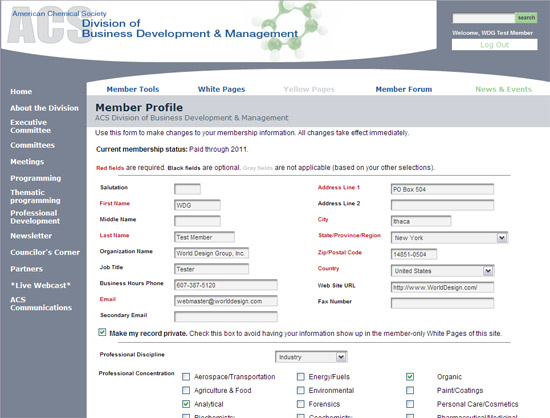 Membership Module
Association members can join and renew their membership completely online. Associations can choose to securely process credit card payments in real-time, or to process them manually. As memberships expire, members are reminded to renew when they login.
Membership types
Associations often have different types of members: students, associate, lifetime, honorary, and so forth. The system accommodates different rights for each membership type. For example, honorary members may not be allowed to vote in an online election.
Election Module
Create a slate of candidates from the membership database. Run an election for the executive board, or any other purpose. Optionally include a referendum, such as changes to the by-laws. "Get out the vote" functionality maximizes member participation in the election. Authorized administrators can view tabulated results in real-time.
Conference Registration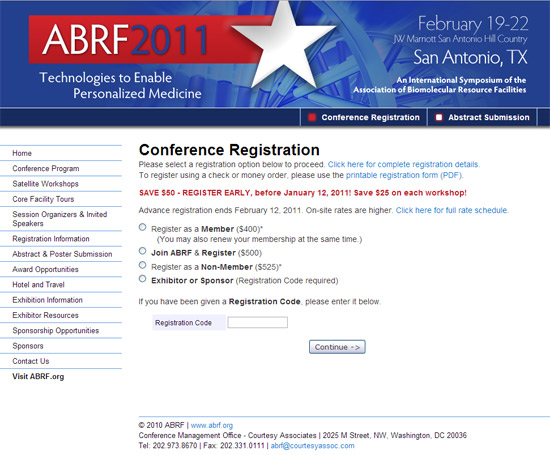 Conference Module
This is a full-featured conference registration system that is available as a standalone Web application or fully integrated into AssociationNET. It smoothly handles both member and non-member registration, abstract submission with online review, and the ability to register for optional workshops and seminars outside of the main conference.
Other conference features include:
Automatically handles discounts for early registration.
On-site conference check-in module.
Print custom conference badges with barcodes for exhibitor lead retrieval.
Granular permissions—assign only the necessary functionality to the appropriate staff.
Complimentary and discounted registration options for speakers, guests, and other VIPs.
Exhibitor/vendor registration.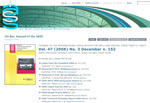 Online Journal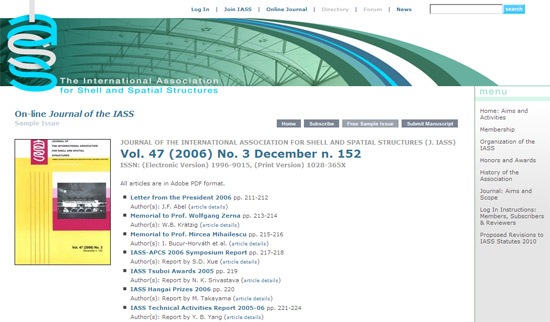 Electronic Journal Review and Publishing
Publish your journal online. Includes manuscript upload and online review and multiple re-review functionality. Manuscripts can be sent out to reviewers electronically, and the issue can be assembled for publication completely online.
Integrated Content Management System
Includes our complete CMS system with integrated intranet functionality, and the ability to drive multiple Web sites through one centralized administrative engine.
Contact us for a Web demonstration of AssociationNet.